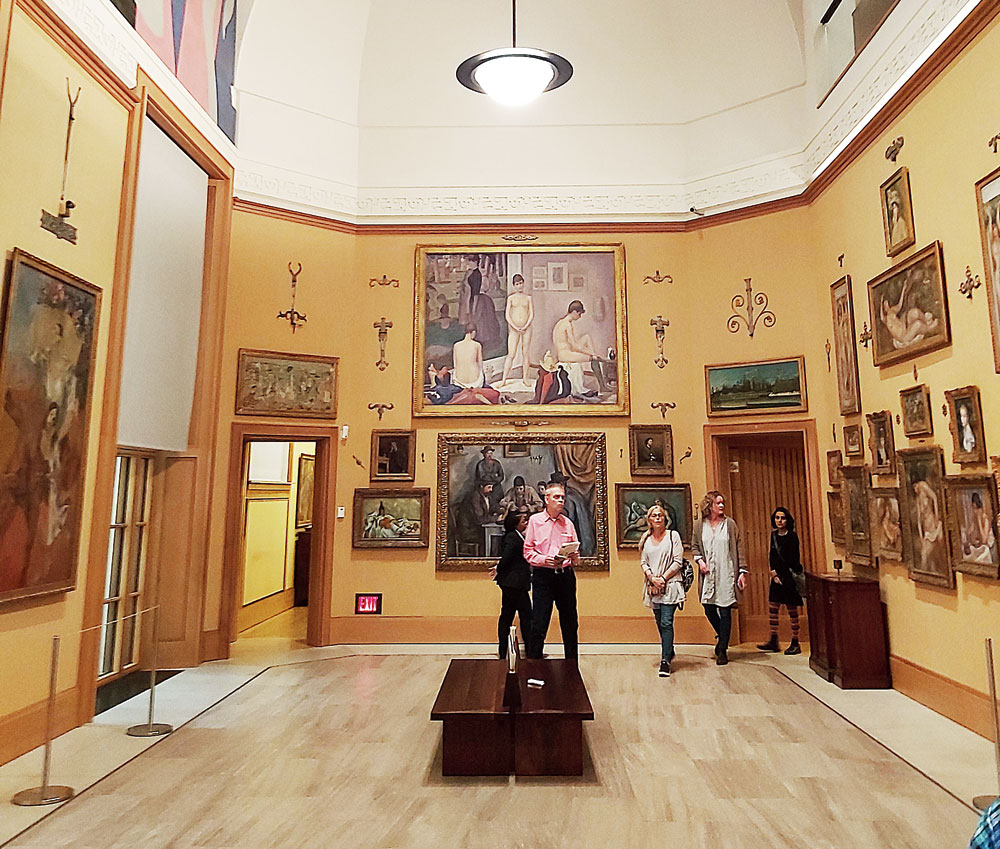 Visit the Barnes Foundation of Philadelphia to relearn how to appreciate art
Albert C. Barnes' collection of paintings began in 1912, purely as a hobby. He had no education or training in art history
---
---
Creation
Barnes is home to an unforgettable collection of early Impressionist, Post-Impressionist and Modernist paintings. It was created by one man, a self-made man, born into a working-class Philadelphia family in 1872. A 1926 portrait (by Giorgio de Chirico) of the chemist, businessman, educator and art collector welcomes visitors.
After working (he found support while playing semi-professional baseball) at the University of Pennsylvania School of Medicine, he developed Argyrol, a silver nitrate antiseptic used to treat eye infections in babies. . Success followed and so did the money. He could have practiced as a doctor, but decided to take a different path after completing his medical internship. He was fortunate enough to sell this company to a large pharmaceutical company in July-August 1929, just a few months before the great stock market crash. He would have walked away with $ 6 million at the time.
But his collection of paintings began much earlier, in 1912, purely as a hobby. Although he had no education or training in art history, he sent his high school friend William Glackens to Paris in February 1912 with only $ 20,000 (which would now be around $ 400,000) to purchase. some examples of modern art, which he read. It was at a time when Paris was at the center of the art world, where all innovations were happening. Picasso was there. Matisse was there. Artists from all over the world had come down to Paris where they lived freely, painting what they wanted to paint.
Glackens met merchants and artists like Picasso. He bought 33 paintings. They were Renoir, Cézanne, Picasso, Degas, Pissarro… you get the idea. This was the start of the collection, one of the centerpieces is Matisse's 45-foot-long triptych mural, The Dance II, which Barnes had ordered for $ 30,000. They were to be placed in the three semicircular arches of the main gallery, positioned above a trio of patio doors. Showcasing geometric bursts of blue and pink, the work features a group of gray nudes springing up and tumbling down.
Barnes looked at the paintings Glackens had brought back and found them so interesting that he decided to visit Paris himself. He meets Picasso and buys other paintings from him. The man had no curator, adviser, or expert. He bought what he liked. Until the day of his death in 1951, he did not stop buying, trading and exchanging paintings. It was a very fluid collection.
The poet TS Eliot wanted to visit the Barnes Foundation in Philadelphia where Cézannes, Renoir and Picasso live together on the many walls. Visionary collector Albert C. Barnes had a one-word response to the note that had been inserted: "Nuts", which we believed was a no. Its eccentricity lingers in the new building – by architects Tod Williams and Billie Tsien – which opened in 2012. Right in the heart of the City of Brotherly Love is an address both world-famous and secret for many. Inside are 181 Pierre-Auguste Renoir, 69 creations by Paul Cézanne, 46 paintings by Pablo Picasso, 59 Henri Matisse and much more.
Originally, he had built a mansion to house his collection in the Philadelphia suburb of Merion, where explanatory texts on the walls and catalogs were greeted with disdain. He believed in visual literacy rather than text education. The Barnes Foundation, holder of the collection, finally managed to move to a new center. The Merion building and its many galleries, with Barnes' arrangements within them, have been replicated at the new address, with the same window locations and the countless wrought-iron hinges, locks and the like staining the walls. The paintings hang exactly as they were on the day he died in 1951.
A blackboard for his thoughts
Inspired by the writings of the philosopher John Dewey, who emphasized the importance of education in a truly democratic society, Barnes, in 1922, established the Foundation as an educational institution to teach people how to view art. He wanted people to learn the art by watching them instead of being told what to look for. The paintings in the galleries are out of order; they are stacked from floor to ceiling. If you go to a stately home in England or France, this is what you will get. This is called the salon style. It mixes everything: culture, traditions, artists and eras. This was done because he believed that no artist learns in a vacuum; they learn from what they see around them, on the street and at home.
In the gallery, there is nothing to read on the walls. Usually, in an art gallery, most people read the text on the walls first. Some, in fact, spend more time reading the text than looking at what is on the wall. At the address of Philadelphia, we have no choice but to search and make connections. Each wall is like a blackboard. Feel free to scribble your thoughts with invisible chalk. Visual education was his mission.
When he had his factory, most of the employees were African-American women with no education. Barnes organized his days so that each of them had at least two free hours during which they read poetry, listened to classical music, and discussed philosophy. He brought pictures to the factory where they could discuss them.
The idea has always been to make the viewer feel comfortable admiring a painting instead of worrying about what others may think of it. Barnes also wanted people to understand how paintings are constructed. What we are looking at is a flat piece of canvas with paint on it. When the artist applies paint using lines, light, color, space and geometry, a sense of emotion emerges.
For example, take a look at The Card Players by Paul Cézanne which is one of the famous plays hosted here. The main actor in the painting wears a white shirt, and the way his hands are drawn forms a pyramid. Next, look at the "V" shape of the leg posture, as if it were an inverted pyramid. Together, a diamond shape appears, in the middle of which are the playing cards. To draw our attention to the cards, there is a white pipe protruding as if it could be removed from the table; it's almost 3D and it almost brings the gaze to the focal point of the painting. The interpretation changes with the viewer. Another unique way to catch our eye to paintings are the metal hinges of all shapes and sizes that adorn the walls.
What Albert C. Barnes had done almost a century ago is now being discussed by other institutions, including the Museum of Modern Art in New York – the idea of ​​rearranging collections to mix things up.
At this arts education center, the surprises are endless, making it an endearing stop for anyone visiting Philadelphia for a few days. This eclectic collection, presented in an unusual way, indeed shows that Barnes' legacy is a treasure for all.