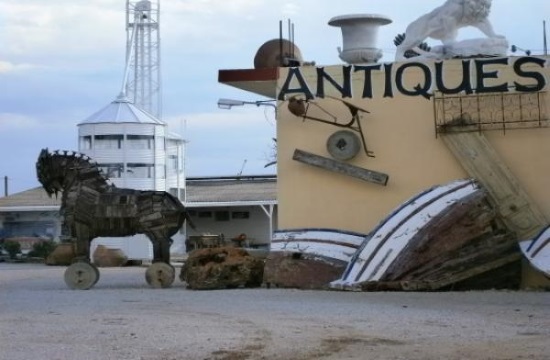 Tornos News | Silo Art Factory experiential history and culture workshop in Mycenae for all ages
[ad_1]
The Experiential History and culture Silo Art Factory workshop in Mycenae, is a unique experience mainly for children and students of all levels, but also for adults.
Not only because they will be impressed by the modern "Trojan Horse" and the Atlas created by the artist. Stelios D. Maragos, founder of Silo Art Factory, but also because the guests, guided by expert instructors, can learn about the art of painting to make ceramic objects. They will use appropriate tools and learn about the history of ceramic art and culture that was based on this flexible and beautiful material.
This innovative educational program can be attended by elementary, middle and high school students and anyone who enjoys creation and art (ages three to 103). The programs last 1h or 1h30 per group and take place daily as well as on weekends, upon prior consultation.
Students and visitors are guided to the Greek art room and the Antique Room with the workshop of furniture and traditional objects and pottery, while in the courtyard of the Silo, they will be introduced to the Trojan horse and informed of its construction and its "secrets".
Immediately after, they come into contact with recycled useful objects and how to use and reuse materials discarded by others.
Over the past five years, hundreds of students from all levels of education visited and watched the Experiential History and Culture Workshop and thus came into contact with culture and art. Hundreds of schools in Greece and Europe have included a visit to the Silo Art factory in their programs.
Why visiting Silo Art Factory is an invaluable experience
On the way to New national road from Mycenae to Nafplio, a former factory and aviary has been transformed into an art gallery. Art lives there.
On the way to Nafplion, near Monastiraki region, you will meet the Trojan Horse, the work of local artist Stelios Maragos.
As Stelios himself will explain, the Trojan horse has two sides, iron and rougher on one side and wood and more earthy and human on the other, like life itself and man today.
The father of a large family, he himself worked as a child in his parents' pottery workshop. Twelve years ago, he found the old abandoned house and, there, the idea of a space for art and creation, a lifelong dream for him, was born.
As he says himself, he found at the back of the building a huge food transport screw that had rotted over time. A long shoe that could serve as a tail to the Trojan horse. Thus, the idea of ​​its construction was born and it began 12 years ago collecting old artifacts to complete the job.
The Trojan horse is one of the many exhibitions that can be found in SiloArtFactory. Through art, the place invites the visitor to experience a philosophy of life that combines nature and modern art of living.
The next exhibit worth mentioning is the Atlas. This is a variation of the classic Atlas in which the earth has grown thorns and Atlas is ready to fly. In this way, Stelios manages to convey to the young visitors who visit each year the critical situation our world is facing today due to wars, refugees, climate change and the economic crisis.
Built entirely from recyclable materials, he wants to show us the usefulness of old objects which, instead of being thrown away, can be recycled in order to create a better world.
Pottery class for young and old are organized in the workshop of this multiplex place so that young children can discover the ancient arts of today and understand how ceramic pottery was made in ancient Greece. This is an ideal school excursion solution in conjunction with the nearby archaeological site of Mycenae.
Stelios has managed for five consecutive years to offer dozens of schools in Greece and Europe an experiential history and culture workshop, in a beautifully landscaped 40 hectare estate, between golden green olives and fragrant orange trees.
The program is led by Ms. Georgia Dinou while the entire operation of the "Silo" multiplex is supervised by Stelios D. Maragos.
Telephone numbers: (+30) 27510 76276 Mobile. (+30) 6972922730, 6977276427
http://www.siloart.gr/
Stelios D. Maragos / Silo Art Factory
RELATED TOPICS: Greece, Greek tourism news, Tourism in Greece, The greek islands, Hotels in Greece, Travel to greece, Greek destinations , greek travel market, Greek tourism statistics, Greek Tourism Report
[ad_2]