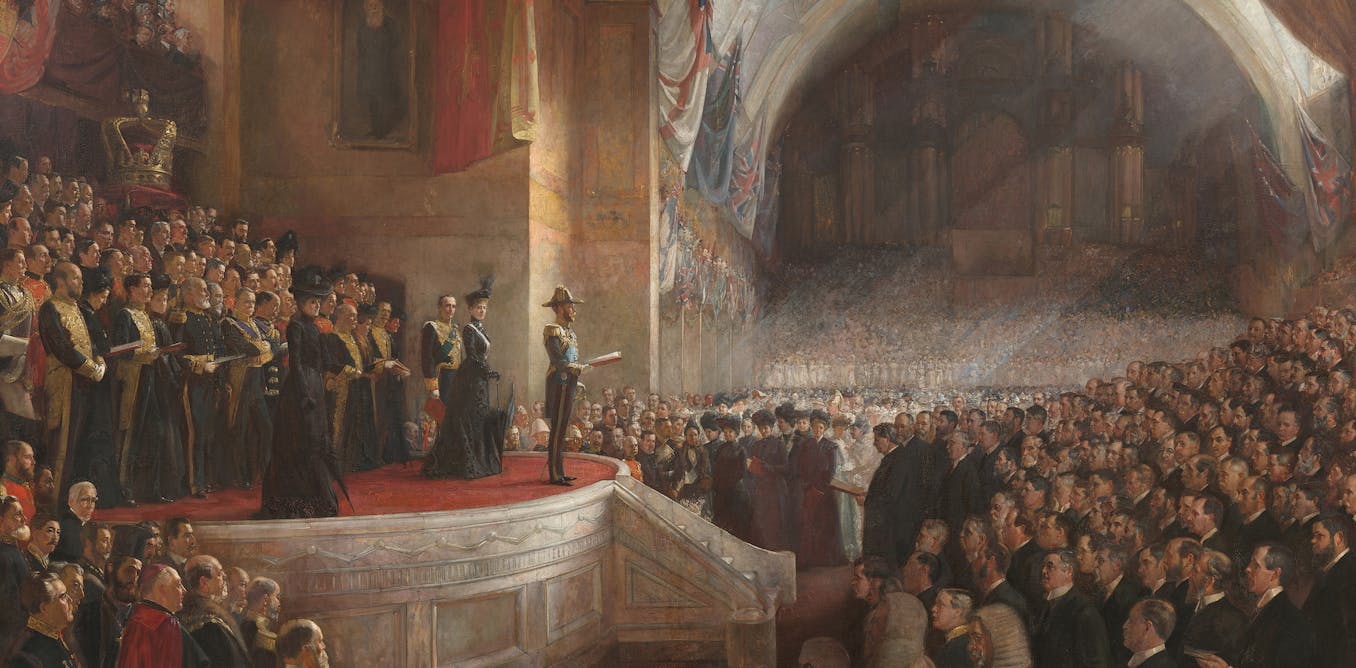 Tom Roberts, anyone? National survey finds limit in appreciation of art
[ad_1]
On December 4, the National Gallery of Australia (NGA) opens its exhibition of Tom Roberts' work as a centerpiece of a major redevelopment of the gallery's Australian collections, and highlighted the importance of the exhibition in these terms :
This extraordinary exhibition brings together the most famous paintings of Tom Roberts, loved by all Australians. Paintings such as Rams Shear (1888-90) and Une escapée! (1891) are among the country's best-known works of art. An exhibition for all Australians, not to be missed.
But who Is Do you like the work of Tom Roberts? Well, certainly not all Australians. According to the findings of a national survey on cultural tastes of Australians I run, a Roberts fan likely identifies as middle or upper class, has a bachelor's or postgraduate degree, and is most likely white.
The survey, which is part of a project funded by the Australian Research Council, was conducted in the first half of 2015 with a nationally representative sample of 1,202 Australians, supplemented by stimulus samples for aborigines and Torres Strait Islanders, Italians, Lebanese, Chinese and Indians. Australians to bring the total to 1,462.
The survey included a wide range of questions about the tastes of a number of Australian and international artists, as well as questions about tastes for different types of art and art museums. These are accompanied by similar questions exploring tastes for television programs and media personalities, different types of music and literature, sports and heritage activities.
The investigative examination of these cultural tastes and activities is part of a larger investigation exploring how the social models of involvement in both the production and consumption of culture in Australia have changed since the policy statement. cultural history of 1994. Creative nation.
Viewed in this larger context, while Roberts' paintings unite tastes more strongly than some other Australian painters, most Australians are unfamiliar with him, and the tastes of those who have seen and love his work reflect all familiar divisions. of Australian society – age, level of education, social class identification and ethnicity.
Who has heard of Tom Roberts?
For starters, around 63% of Australians have never heard of Tom Roberts – or at least they had never heard of him before National Radio. recent contest to win free tickets at the exhibition. They are much more likely to have heard of Ken does, Sidney nolan, Albert Namatjira, and Brett Whiteley than Roberts (Table 1).
Women are slightly more likely to have heard of Roberts, at 41% compared to 32% for men. Affection for his work is more or less equally shared between the women and men who have seen him.
Age is more conflicting, ranging from just 13% of those under 25 who have heard of it to 60% of those over 60. Only 25% of those under 25 who know Roberts enjoy his job, compared to 85% of those over 60.
The level of education also divides Australian tastes for Roberts. It is little known among those whose education ended with secondary education – only 20% – rising to 43% of those with a university degree and 52% of those with a postgraduate degree.
Only 29% of those who identify as working class know Roberts, compared to 39% of those who identify as middle class and 48% of those who are in the upper middle class.
It should be noted that most of those who have seen Roberts' work like him regardless of their level of education and class identification, although less so for those who consider themselves to be working class.
But if you're a Lebanese, Chinese, or Indian Australian, Roberts is unlikely to have checked in on your cultural radar. Only 13% of Chinese Australians in our sample and 11% of Lebanese Australians had heard of Roberts, with only 10% and 7% of these two groups having seen and liked his work.
Only 8% of Australian Indian respondents had heard of Roberts, and none had seen or liked his work. However, more Italian Australians have both heard of (26%) and seen and liked Roberts (16%).
A significant percentage of the Aboriginal and Torres Strait Islander sample had heard of Roberts (28%), and 20% had both seen and liked his work.
What does it mean?
Of course, the survey data by itself does not explain these different tastes. Our results correspond to broader patterns – in Australia and abroad – of those with higher degrees and social class positions participating more in the visual arts.
The relative lack of interest in Roberts evident among members of the various ethnic groups we interviewed may simply reflect a lack of familiarity with his work on the part of those new to Australia, or a certain disinterest in an artist who, s he was an emblematic painter of the Federation, was at the same time a painter of and for White Australia.
As a prominent member of the late 19th century Heidelberg School, Roberts also played a key role in attracting the bush to white Australians by painting – in a controversial way – aborigines and their culture (although his paintings remain haunted by aboriginal absence / presence).
However, the aborigines and Torres Strait Islanders interviewed largely prefer Namatjira's work; which also – incidentally – only draws Roberts from the issues of overall popularity (77.3% vs. 76.7%) as the most valued painter among those who have seen the work of a particular artist.
There is good reason to question whether Roberts is the best choice to celebrate a major NGA reshuffle. That said, it's a choice that has a lot of advantages as, unlike other iconic Australian artists – Whiteley and Nolan, for example – his work elicits little negative reaction from those who have seen it.
Just over 2% said they didn't like Roberts' paintings, compared to 30% who didn't like Done's work, and the 23% and 11% didn't like Whitely and Nolan.
What is less clear is how much of a good choice Roberts is at a time when our national institutions are expected to reflect Australia's growing multicultural complexity.
Much will depend on how the exhibition is organized and linked to the new arrangement of the Australian collection. Considering the important role the NGA has played in redefining Australian art through its recognition of indigenous art, there is cause for optimism here.
For my part, while Roberts is not my favorite painter, he is interesting and I look forward to seeing what new light the exhibition sheds on Roberts' place in Australian visual culture.
Tom Roberts opens at the National Gallery of Australia on December 4. Details here.
[ad_2]