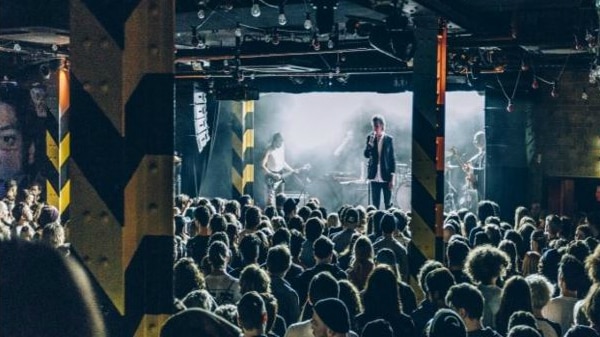 Sydney's Oxford Art Factory for sale, owner Mark Gerber says it's 'business as usual'
[ad_1]
Sydney's Oxford Art Factory is up for sale next week, but the longtime concert hall boss said it "feels like nothing has happened" for the CBD hotspot.
Located on Oxford Street in Darlinghurst, the Oxford Art Factory, known as the OAF, is set to go under the hammer at an auction next Thursday.
The property is described as a "rare and iconic Sydney Metro investment" with a development valued at $ 2.7 million and a "new 10 year lease" from October plus "options until 2035" .
However, the OFA's Mark Gerber told triple j that only the property was for sale, not the business.
"We sell the strata [property] only, not the company. The business is not for sale, "Mr. Gerber said.
"We have a lease that extends beyond 2025. It's business as usual for the OAF."
"We thank everyone, past, present and future, for their support of the OFA and its live music and arts program."
Fans of live music have been drawn to the Darlinghurst Hall since 2007, and the OFA's upcoming concert schedule shows that there is still a lot to come.
Violent Soho will play a one-time sold-out launch this Friday, the Philadelphia Grand Jury convened on Saturday, and in the future, performances by Tuka, Bully and Mansionair.
The venue will also host a number of Falls Festival side shows in January as well as Laneway Festival side shows in February.
The news of the OAF property sale comes nearly a month after the operators of Sydney's GoodGod Small Club put the basement on the market, pointing out that their decision was not inspired by the laws controversies over the lockdown.
However, trade restrictions, which see venues lock down punters at 1:30 a.m. and serve the last drinks at 3:00 a.m., have been blamed for the closure of a series of Sydney concert halls since their introduction last year. , including Hugos Lounge, The Imperial Hotel and Soho.
As the historic Lansdowne Hotel closed to become a music school in August, Mr Gerber said lockdown laws had damaged Sydney's culture.
"Lockdown can be counterproductive in the sense that it deals with violence, but one thing that also suffers because of this is the culture of the city, the soul of the city," he said.
Inside-West outfit and Annandale Hotel's unofficial former house band, Stick Fingers, recently picked up the 1981 classic Ghost Town by The Specials to protest their hometown foreclosure laws.
This article originally appeared on triple j.
[ad_2]