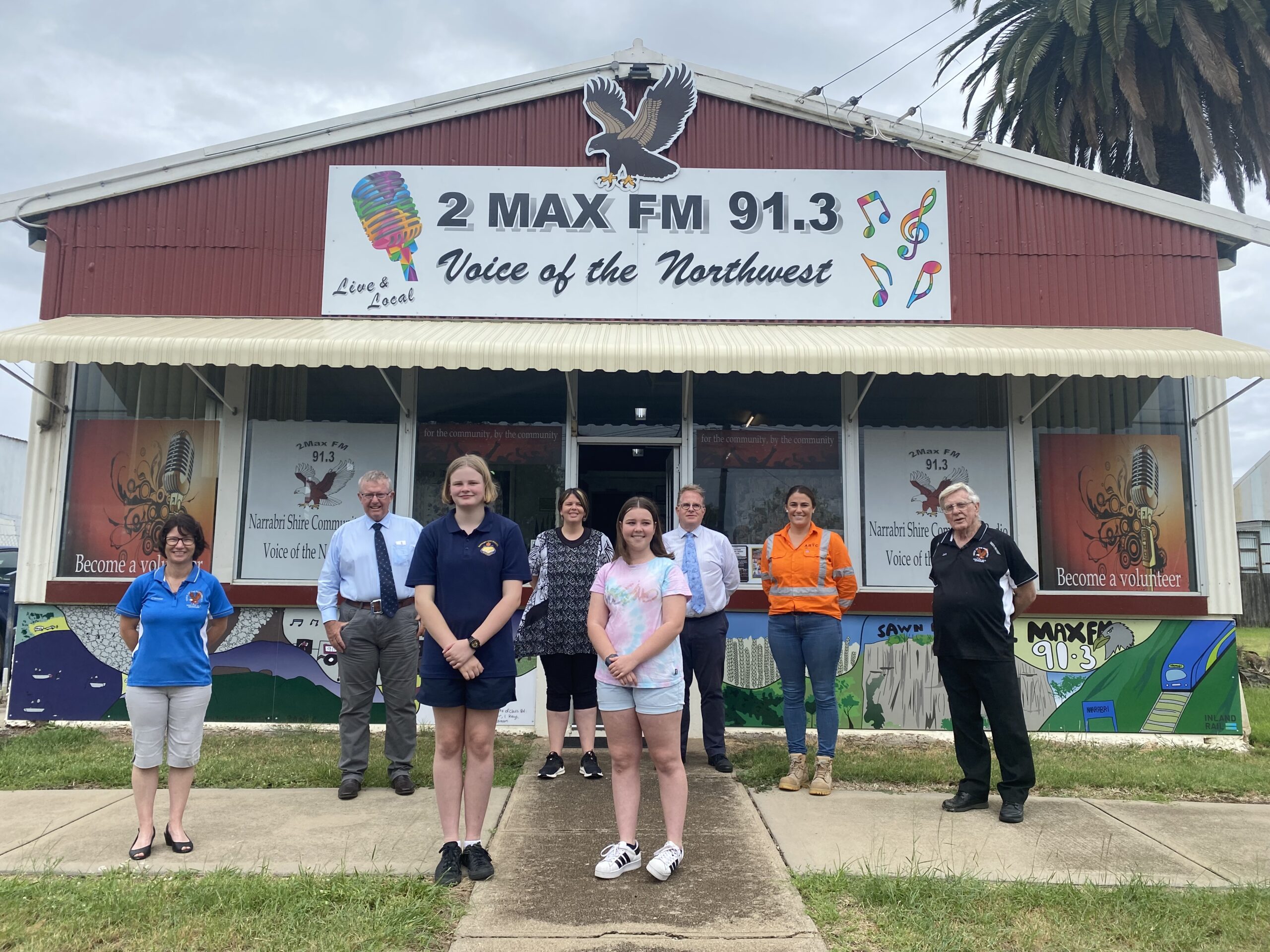 Student artwork is on display with a mural at the 2Max FM building
Parkes MP Mark Coulton recently officially unveiled an impressive mural on the facade of the 2Max FM building in Narrabri.
Readers may have noticed the colorful mural, which reflects the various attributes of the area.
Images of cotton and sheep with spectacular sawn rocks.
"This mural was created by three 8th graders from Narrabri High School, Isabella Keys, Samantha Westman and Caitlyn Taylor, whose design was chosen following a competition within the high school," Coulton said. .
"The artwork is fantastic and perfectly captures Narrabri County, making it a welcoming entry for the local community radio station."
The radio station's vice president, Jeff Cloake, gave a short but thoughtful speech thanking the contributors.
Mr Cloake thanked Inland Rail for their "generous funding" and Mr Coulton for his "dedication to supporting community radio".
"Thank you to Narrabri High School students Isabella, Samantha and Caitlyn for designing the artwork and Turner Signs for turning it into the exhibit you see today," he said.
The artwork was made possible by a $2,984 grant for sponsorships and donations from the Inland Rail community and other eligible local groups and organizations were encouraged to apply for the grants.
Manager Cassie Boyd said 2Max FM applied for the grant to retrofit the facade of the community radio station building in May 2020, with the goal of encouraging input from Narrabri County youth.
2MaxFM approached Narrabri High School art teachers and discussed how the students could design the artwork for the mural.
Students were invited to submit their ideas to 2MaxFM, and the radio station then ran a Facebook promotion asking the community to vote for their favorite work.
The three most popular designs were presented to the 2MaxFM committee who made the final decision.
Due to COVID, the project took longer than originally planned, however, it is now fully displayed for the community to enjoy.
"It's a wonderful sight to see the students' artwork as you walk down Barwan Street," said Ms. Boyd.
"We made sure to include the signatures of the students who designed the artwork, the high school crest and the Inland Rail logo to thank everyone involved in the project.
"2MaxFM would also like to acknowledge Inland Rail's support of this project."
To order photos from this page click here