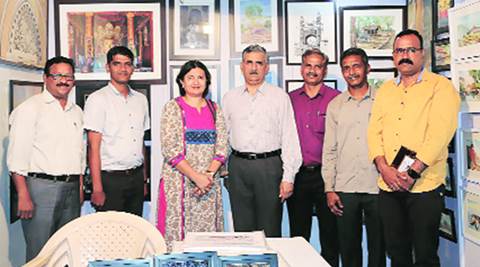 Mumbai Police personnel present their artwork at Kala Ghoda festival
FOR TEN years, Ankush Dupkar has exhibited his works at the Kala Ghoda Festival. The week-long festival gives him a break from his usual job as a gunsmith for the Mumbai police. Seeking special permission from the police department, Dupkar, along with Ramesh Chopde, Sanket Rathod, Vikas Lavenge, Sanjay Sawant and Gaikwad, sold their works at the art festival.
They donate fifty percent of their proceeds to the Mumbai Police Welfare Fund.
This art festival, they said, is not just a celebration of their hobby, but acts as a platform to showcase their talent.
"People who visit our stalls ask us how we find the time to paint, while working for the police. Their praise and appreciation for our talent is what motivates us more, "said Dupkar.
See what's in the news
In appreciation for his art, Lavenge was invited to paint a scene of Marine Drive for the Special Branch office near Crawford Market. Having been a part of the art festival for five years now, Lavenge feels their booth footfall has declined over time. While many enjoy their work, very few end up buying, he said.
This year, the painting that was sold at the highest price was that of Ramesh Chopde, at Rs 10,000. The police service also uses his art to draw sketches of the suspects.
Sanjay Sawant, who regularly sketches suspects based on witness descriptions, values ​​his time at the festival. "Being at the art festival helps us meet and learn from other artists. The public also appreciates our work. More than the income we make, these are the things that matter, "Sawant said.