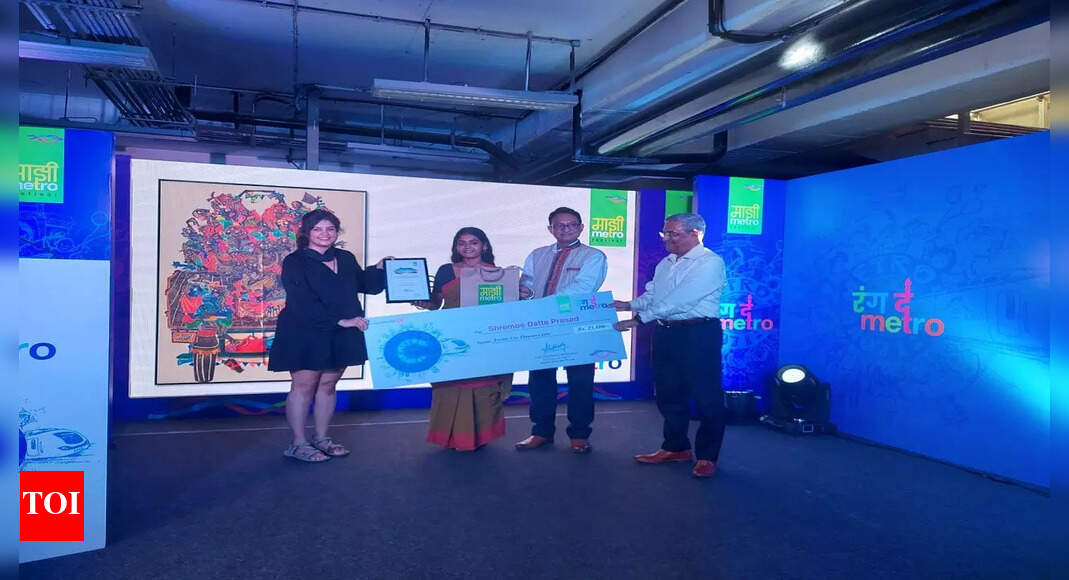 Mumbai Metro to Showcase 'Metro Rank' Contest Winners' Artworks at All Stations | Bombay News
MUMBAI: Mumbai metro stations (Versova-Andheri-Ghatkopar) will present the paintings of artists who won prizes in the Majhi metro painting competition held for the year 2021.
The winners were congratulated at an event in Ghatkopar on Friday. This year's theme was Metro Rank (Painting).
R-Infra promoted the Mumbai Metro One Majhi Metro Festival which started in 2013 (before operations started). During these years, Metro One has successfully created some masterpieces of art like the paintings that can be seen in all metro stations, the art metro train loaded with paintings, photographs , poems and painting on the giant wall (4,000 square feet) near DN Nagar Metro Station.
Over 5,500 registrations; about 3,500 works of art were received from over 25 Indian cities and some entries from overseas.
Artwork submissions were judged by a team of renowned artists consisting of National Academy Award winner and Lalit Kala Academy Board member Kishore Kumar Das, Visva Bharati teacher Shantiniketan, West Bengal Rishi Barua and famous mural artist Mamta Singh.
Of the 3,500 works of art received, the Top 30 were shortlisted as winners.
The 3 most awarded arts are: Shremoe Datta Prasad (Bahuroopi – One where everyone wears a different 'ROOP'), Vritti Kotian (Magic – A connection with different realms, a different culture, a different beauty), Soma Kabiraj ( Conversation between man and nature (sometimes between trees, animals, humans) and Janhavi Dhumal – (Mumbai's iconic street food stalls like Chai Wala, Anna Dosa and Vada Pav).
An official from Metro One said: "All interiors of the station will be painted with works of art by renowned and budding artists from various art institutions selected by the jury."
To commemorate 75 years of independence, a station will be dedicated to independence-related works of art supporting the campaign of the Ministry of Culture and the Ministry of Housing and Urban Affairs (MOHUA).
The 2021 Majhi Metro Festival received a massive response with over a million digital impressions on social media.