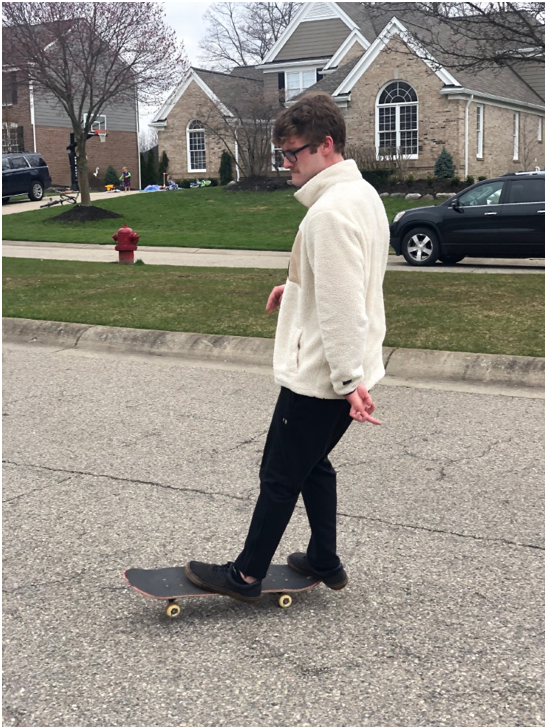 Life skills: skateboarding, art appreciation, relationship repair
Editor's Note: This story is part of Coping with COVID-19, a series of brief overviews of people during a pandemic.
By Morgan Duerden
When life gives you a pandemic, sometimes you just need to get on a skateboard and take a ride.
Tim Kohlstedt, lost his job as an insurance salesman in March due to the stay-at-home order. Residing in his parents' house at Lake Orion, Kohlstedt took this time to improve.

He doesn't want to be an insurance salesman.
"I want to find a job that is close to my heart, that I like to do ", Kohlstedt noted. "I learned that I need to pull myself together. I indulge in pleasures a little too much."
Without a job, he had more time to pick up old hobbies, or… set them up.
"I started to read this book titled Tribe by Sebastian Junger, " Kohlstedt noted. "I watched a lot of YouTube videos on art and how to look at a painting."
He watched one at Vincent van Gogh's Night Café. The painting is full of red and green, colors that go together, but contrast at the same time.
"It gives a feeling of anguish and I can relate to it" Kohlstedt noted. "Everyone in the painting is leaning over. This is how the world is feeling right now.
Kohlstedt got back on his skateboard to try tricks but continues to fall on his wrist. He said it looks a bit like his life right now.
"It's a good lesson in life. You must get up, "he said.
Meanwhile, he is rebuilding her relationship with her father.
"Me and him have always been head butted all my life, especially when I was a teenager" Kohlstedt noted. "I never really gave him the respect he deserved until this coronavirus."
His father, Dave Kohlstedt, was an ambulance firefighter for almost 20 years. Now he sells medical equipment.
"I would never listen to his stories about his work, I just brushed them off", Kohlstedt noted.
But recently nurses asked her father for an order for supplies they needed the next day or people would die. They said they needed a miracle. His father emailed a supplier and got an immediate response, he said. The supplier knew his dad was a no bs guy and if he said it was bad it was bad.
His plea had been read aloud in the production room and caused many tears to melt, Kohlstedt said. The order was shipped that evening.
"I just realized that my dad is trying to move mountains for people and I didn't give him that respect", Kohlstedt noted. "I know he has a lot of love for me and I have a lot of love for him."
See the series: Coping with COVID-19