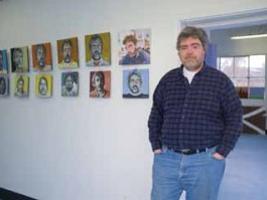 Ithaca Art Factory offers a social experience | Entertainment
If you travel south on Old Elmira Road just past Lucatelli, you might notice on the right hand side a new overhaul of the landscape: The Ithaca Art Factory, Ed Marion's new art venture that combines a gallery , a teaching space, a studio space and an interactive social approach to art.
Marion attended Cooper Union Art School in 1979 and 1980, and he continues to paint portraits, still lifes and other works of art. He needed a place to work, he said, as well as a place to show his work. When I visited him in February, he featured a "Me, Myself and Me", which featured decades of self-portraits in the form of sketches and paintings.
He moved to Ithaca in 2002 with his wife, who was affiliated with Cornell, as "an adventure," he said, and he loved the area. "I guess we could always go back," he said, "but we didn't." Marion was a practicing lawyer for 15 years, he said, but he never stopped painting during this time.
Marion has taught painting before, he said, but what really excites him about this project is the opportunity to combine a social experience with an educational painting lesson. Students can register for a single course, instead of having to sign up for multiple courses like other painting courses in the region. They don't have to buy any supplies either: the studio provides everything including easels and aprons, and people can enjoy a party atmosphere with music and socializing while they receive their. Marion's painting class. The price of a session is $ 35.
"Most of the work of artists alone," he said. "I wanted to give back and teach people what I learned. It's a different kind of painting experience that I offer here.
In a given session, based on the topic of the lesson, a student makes a chart, and he brings it home that day. The session will begin with introductions and set-up, followed by instructions. Subjects range from still lifes, flowers, self-portraits and painting from photographs. . Marion also teaches values, color mixing and compositional aspects of painting. Space is also available to host events such as birthdays, private and corporate events, fundraisers, and office parties.
The studio has a "northern light," which Marion says is an artist's favorite type of light, and the huge teaching studio doors open, allowing for an indoor-outdoor feel in the springtime. Marion said he also hopes to teach classes outside in the parking lot once it gets warm enough.
"I really want this to be an artistic party experience," he said, "a very social time." Students or people who host can also choose to bring food if they wish. However, there is no beer or wine allowed, due to licensing issues.
In addition to self-portraits, Marion painted extensively around Ithaca and New York. He had 30 shows in Ithaca, he said, in places like CSMA, Gimme! Café, Community Arts Partnership and Brunelli Fine Arts.
What is Marion's main motivation as an artist? "I'm still back in the classic Cooper Union," he said. "I want to get down what I see in front of me, which I like." Chuck Close was an inspiration to Marion, he said, and he was influenced by Close's idea of ​​painting as a performance and of the painter as an experiential witness to painting. "I communicate with what I paint," he added.
"I believe everyone is an artist," Marion said. "Some of us learned to put it aside in kindergarten. I love to paint and draw, and I love to share, to give people a chance to enjoy painting again."
Marion said he wanted the name, Ithaca Art Factory, to be a nod to Andy Warhol's factory. He's excited to bring his education to Ithaca, and he's been teaching at the factory for several weeks now. If even a person signs up for a course, they will go ahead and teach the course, he said. Many classes have around nine people, but the studio can easily accommodate up to 20 people for larger events such as parties, events, or fundraisers.
Classes take place Thursday, Friday, Saturday and Sunday at different times, and the gallery is open Friday and Saturday from 12 p.m. to 5.30 p.m. and Sunday from 2 p.m. to 4 p.m., and from Monday to Thursday by chance or by appointment. Thursday classes are general classes that teach painting techniques, while weekend classes focus on a specific painting. Marion also sells gift certificates so that you can give a session as a gift.
People who take Marion's classes may come away with a piece of conversation, a memory, he said, something to hang in their home, to remember and to tell others.
"I am a good artist," he said, "and I love to share my skills and expertise with others."