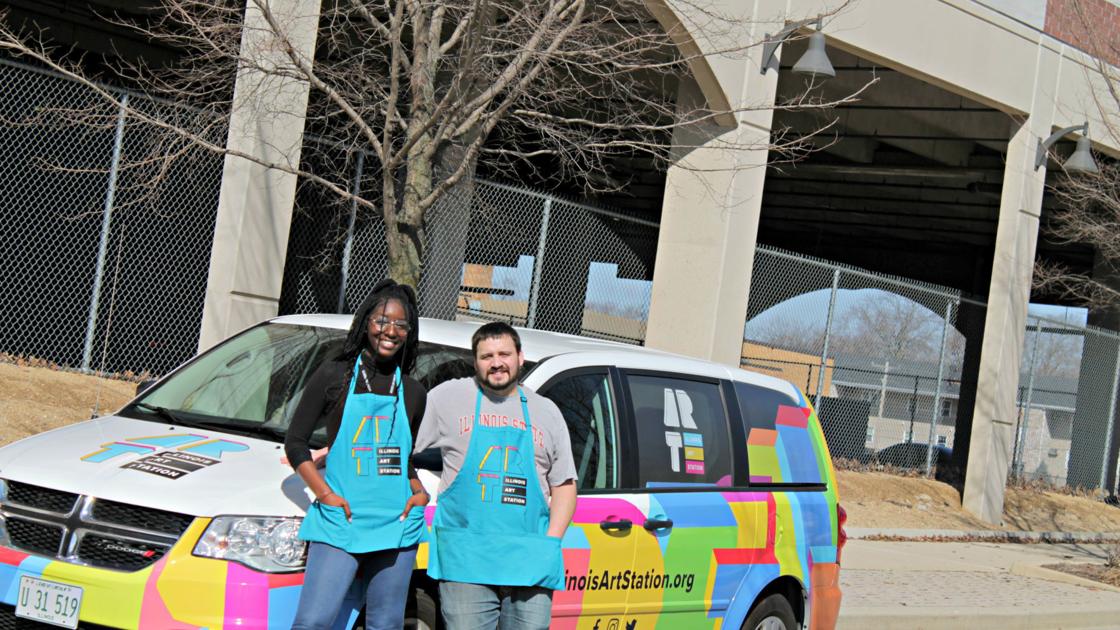 Illinois Art Station to Use College Avenue Bridge Space | Arts and theater
NORMAL – Sally Heffernan likes to imagine a triangle of destinations for young people in the upscale neighborhoods of Normal.
"We focus on learning through many types of children's activities at CDM (Children's Discovery Museum); we have the library, which offers a wide variety of children's programs; and now we're focusing on children's art, "she said." It's a perfect fit. Families will love it. "
The artwork in this triangle is the Illinois Art Station (IAS), a studio, gallery, and learning space slated to relocate from Williams Hall at Illinois State University to the first floor of the College Avenue Parking Deck. next year.
IAS Director Isra El-beshir said she envisions a place for young people, especially those at risk and with developmental disabilities, to visit, learn and grow. She said the space will include a public children's art gallery and that she imagines being able to see the vivid colors and lights of the IAS from the CDM.
The IAS began forming in 2016 and held its first classes last year under the leadership of Laura Berk, a retired ISU professor of psychology, who is the organization's founding donor and president. of his fundraising foundation. The foundation plans to inject $ 1.5-2 million into space for an opening in March 2020.
"One of the advantages (of space) is to be this empty rectangle with which architects can do wonderful things," Berk said. "It's very central in terms of transportation from all parts of this community. We want children and families to be able to get here, and we want more of them to come to the upscale neighborhoods so that upscale neighborhoods can become the diverse place that everyone wants them to be. "
Berk said ISU has been a great partner of IAS, including providing undergraduate and graduate students for partnerships, and will continue to work with the organization. The foundation's board of directors includes two other retired ISU executives, Steve Lancaster in facilities and Rick Lewis in administration.
The IAS has another full-time employee, Education Curator Peggy Finnegan-Boyes.
Heffernan, the city's director of economic development, said the IAS approached the city last fall to find a home in the upscale neighborhoods, and 12,000 undeveloped square feet on the bridge proved to be a good solution. . The city announced the space to be developed this winter and had only one response, that of the IAS.
Because the IAS is building city-owned space, Heffernan said, it's likely the city will forgive some or all of its rent to make up the difference. The city and the IAS are still negotiating the terms.
Berk and El-beshir attended Monday's meeting of the normal city council, which has yet to approve a proposal.
In other matters, counsel:
• Reinstatement of the Bone Grant, an award for owners of historic homes in Normal for doing restoration projects, to a new amount and with new guidelines.
Normal plans to spend $ 25,000 per year for the grant and limit each homeowner to a price of up to $ 4,000 in one year. Owners can contact the Normal Historical Preservation Commission; rewards require a 50-50 match.
• Approval of three new appointments to city boards and commissions: Jason Coffman, normal mechanical engineer, to the Building Appeal Board; Zachary Boerger, a normal real estate agent, at the Historic Preservation Commission; and Elise Albers, Manager of Normal Population Health, on the Board of Trustees of the Children's Discovery Museum Foundation.
Contact Derek Beigh at (309) 820-3234. Follow him on Twitter: @pg_beigh