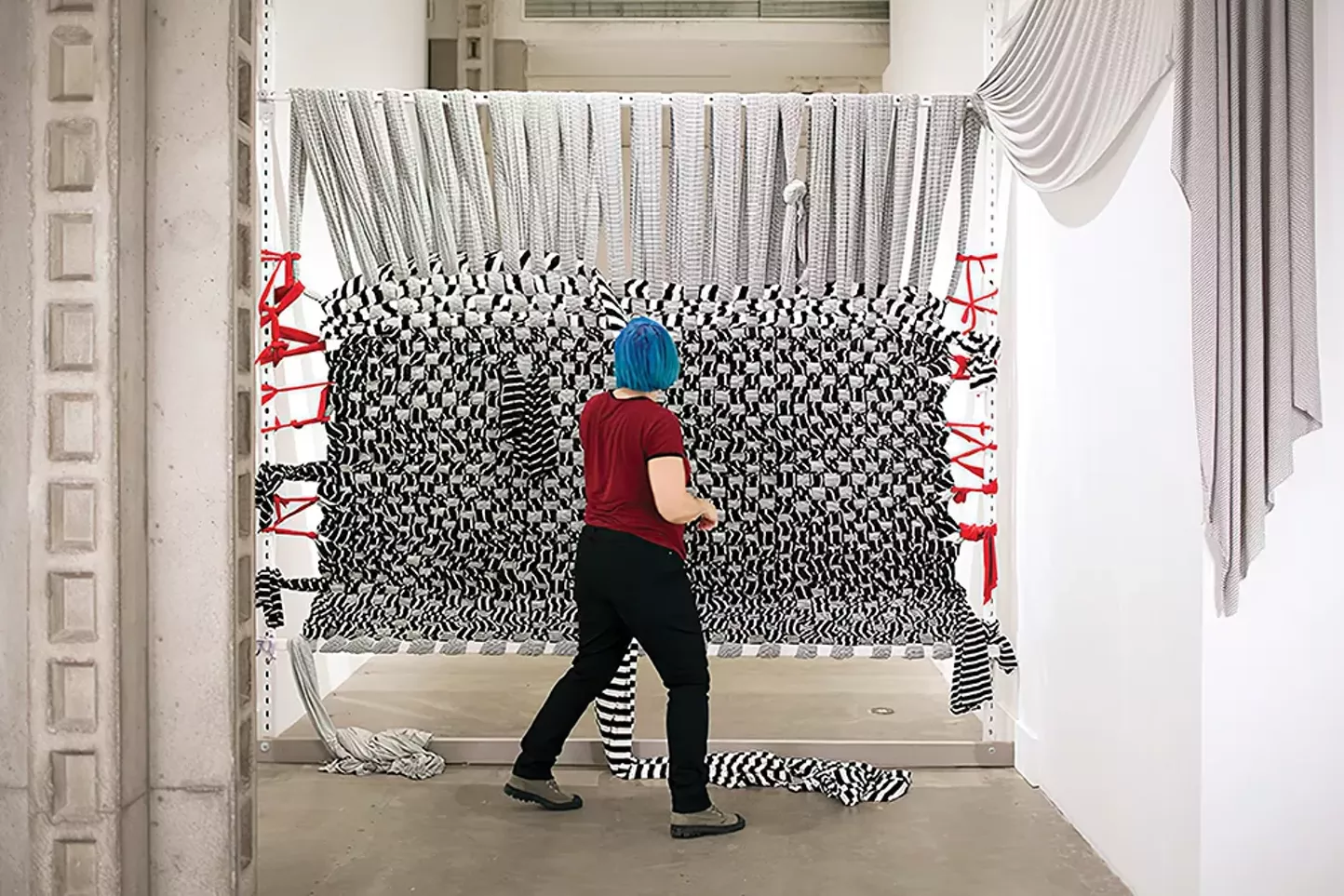 Develop Your Appreciation of Contemporary Art in Forties with These Artists | Visual arts | Hudson Valley
Editor's Note: At press time in mid-March, most sites had canceled events until early May due to concerns about the spread of COVID-19. We have decided to leave the art exhibition listings in the printed April issue in order to underline and underline the vitality and importance of the community of artists, galleries and museums to the region. In this time of general disruption, it is important to support the arts so that we still have galleries to visit and works of artists to admire when this is all over.
Connect with your favorite artists through their websites. Many artists have artwork for sale on their sites that can be purchased digitally and shipped to you.
Arts Mid-Hudson offers emergency funding resources for artists and arts organizations, as well as links to other arts-related resources on its website: Artsmidhudson.org/covid19-resources.
"Lost and Proud" at Atlas Studios in Newburgh
Lenore Tawney was a very innovative fiber artist who broke through the warp and weft grid that had traditionally defined / confined the structure of weaving with a process she called 'open warp'. His flagship piece from 1957 Lost and proud is the source of the title of this exhibition in which River Valley Arts Collective equipped with Alyson Boulanger and Candice Madey present the work of four artists from the Hudson Valley: Liz collins, Katie Ford, Anne Lindberg, and Laurel Sparks, all of which explore various approaches to process and gesture, though rarely adhering to the rigid expressions of the grid. Sparks, for example, works diagonal magic with water-based paint, pulp and glitter on strips of woven canvas while Ford uses fabric and a movable blanket to create a concatenation of rectangles and diagonals in his work. Preparation blanket (refraction). (Previously scheduled for April 11–May 3)
Jenny Morgan: "To bathe the world in a strange light" at the Mother Gallery in Beacon.
In a recent interview with Juxtapoz, Jenny morgan said that if she hadn't become an artist, she would have studied psychology. Raised in Utah, now living and working in Brooklyn, Morgan is well known for her self-portraits which are revealing not because she painted herself nude, but because of what they express about the mysteries she examined in his psyche. Mother's paintings come from a new, emerging phase of Morgan's work, now surfacing after a three-year retirement in the spotlight of his mid-career investigation at the MCA Denver Museum. Morgan's original use of color, which is the primary vehicle for conveying her inner world, remains important, but now the subject is not herself but a lookalike (friend) who owns a pet snake. Morgan, who works from his own photographs, also brought composition and displacement into the mix. The results are an (interior) eye opening. (previously scheduled until April 19)
"Michael D'Antuono: Democracy's Last Stand" at the Hudson Underground Gallery
Sneaky irony isn't Michael D'Antuono's thing. Think of the punch instead. However, given the current state of affairs, its very a straightforward approach may be appropriate. D'Antuono certainly has an audience; none other than the mainstay of cable news and bestselling author Malcom Nance is promoting the show, and a look at the artist website will unveil several celebrity fans: Susan Saradon for example. Although nicknamed the "Norman Rockwell of the Resistance" by pop artist Ron English, D'Antuono probably wouldn't have been invited to the idealized Thanksgiving dinner that Rockwell painted for the Saturday night message at the time. D'Antuono's style is indebted to the great illustrator, but his message definitely reflects the cable news of our time. (Previously scheduled for April 4–May 4
"Read to Me" at 11 Jane Street Art Center in Saugerties
An intoxicating mix of sculpture, poetry and performance celebrating International Sculpture Day and National Poetry Month dedicated to "words, image and sound" Read me brings together the work of Robert hite, Melinda Stickney-Gibson, Michael pope, Traci Horgen, Joseph zito, Tracey Cockrell, Jillian rose, Scott Fellows, David Wagner, Jennifer Hicks,
and William Greenwood, as well as poems by Will nixon. (Previously planned for April 3–May 3)
"Monotype Modern" at the Pinkwater Gallery in Kingston
Unlike most prints, monotypes are, as the name suggests, unique. Monotypes are often made by applying printing ink or oil paint to a non-porous plate and then pressing the plate onto a piece of paper by hand or with an engraving press. Other elements such as stencils, natural materials and found objects can be added to the mix. Three skilled one-design practitioners show their impressions at Pinkwater: Joan ffolliott, Susanna Ronner, and Wendy Stefanelli. One of Ronner's abstract works on display is a free approach to theme and variations, conveying a musical sense of timbre and texture activated by one or two percussive jerks of gesture. Ffolliott's figurations dance through layers of subtle translucency while Stefanelli's works evolve through the process with the play of color, form and texture serving as inspiration. (Previously scheduled to run tuntil April 26)
Mariah reading "Watershed: The Footprints That Lead to the Sea" at the Locust Grove Estate Transverse Gallery
A forgotten seesaw in a beautiful national park is reused as a substrate for a skillful painting of one of the park's transcendent views by Mariah reading. She then photographs her work of transformation in situ held with her own hand, so that the illusion is stacked on the illusion while serving a wake-up call to our threatening ecological reality. In the exhibit at Locust Grove, the seesaw is displayed next to the framed photo tripling over the concept game. Hubcaps, crushed plastic water bottles and other detritus of human recklessness are treated with equal skill and seriousness in the 20 works on display. (Previously scheduled until April 26)
"David Eddy" at Albert Shahinian Fine Art in Rhinebeck
David Eddy is a self-taught artist who just turned 70. Over the years he has developed a very personal semi-abstract approach to the making of paintings which, although not devoid of humor and a certain naivety, delve seriously into the mysteries of the personality. His figures and faces evolve through a process of superposition of pigments – it often afflicts the surfaces that accumulate – until the composition manifests itself and reveals its narrative implications. Shahinian notes that "Eddy's images are both self-revealing and largely human." He selected over 45 Eddy paintings for this celebratory exhibition, including recent works as well as older pieces never exhibited publicly before. (Until April 26)
"The Power of Ten" at Kleinert / James Center for the Arts in Woodstock
Guest curator Jane Hart of Lemon Sky: Projects and Editions, who recently moved to Saugerties, brought together the work of 10 artists who live in our region and are "internationally recognized and at the top of their game". Among them are Amanda Church including pop-ish oil To divide nails the point of inflection between representation and abstraction; Elisabeth Condon, whose White piping adopts a pictorial approach to visual duality (painting as an object / painting as a means of representation); and the end Jennifer Wynne Reeves, including multimedia work Place seems to summon a place where a rainbow and a fire gaze at the stars. (April 9–May 31st)
Carl Craig: "Fête / After-Party" at Dia: Beacon
Techno has arrived at Dia: Beacon in style. Veteran Detroit Techno DJ and Producer Carl Craig brought a sound installation commissioned by the Dia Art Foundation to the cavernous lower level of Dia: Beacon. Party / After Party is the result of a five-year collaboration between Craig and Dia based on a convergence between techno and minimalist sound, which Dia has long supported. Another synergy is that Dia: Beacon was once a packaging factory for Nabisco and tech is used to reusing industrial audio. Craig states, "I make music to satisfy my soul, and when I play, I invite others into my world. Likewise, when you step into this vast space, it's like stepping into a reflection of my own. spirit." (Until September 7)