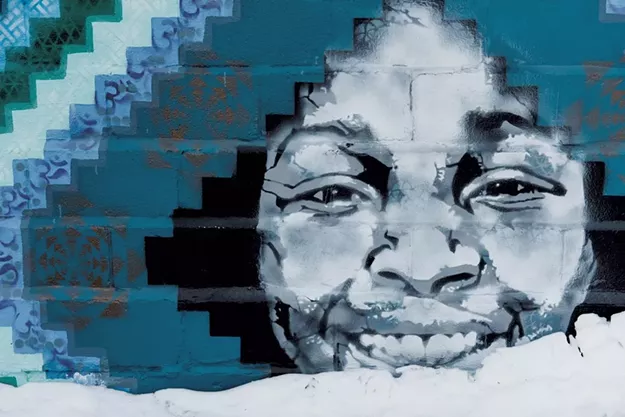 Burlington Mural Tour: Art Appreciation – Free! – in the Queen City | Visual arts | Seven days
Burlington is a city full of art, artists and an abundance of murals. If you are like our family, you are always looking for fun, low cost weekend activities. Why not choose a neighborhood in town B and explore some great street art on foot?
On a Saturday in March, we came up with an easily passable route that started in our Old North End and took us past a few lesser-known murals and then to some downtown favorites. And since food is an essential part of any successful family outing, the itinerary has plenty of possible snack stops for refreshments along the way.
Start with ONE, at the corner of avenue Intervale and rue Archibald. The first three murals are part of a community collaboration between more than 50 neighborhood children, many of them from the HO Wheeler Academy of Integrated Arts and the Boys and Girls Club of Burlington, and local artists Marie Lacy and Sloan Collins. They were made possible by the Burlington City Arts Community Fund, launched in 2016, which provides thousands of dollars to Burlington artists each year.
The Parking mural (at the corner of avenue Intervale and rue Archibald) presents black and white portraits of neighborhood children.
Walk south on Intervale Avenue, then west on North Street until you come to the Corner fresco (corner of North and Parc streets). It surrounds the building and features geometric shapes and two other portraits. If you need fuel, Nunyuns Bakery & Café (139 N. Champlain St.) offers delicious pastries and light fare for breakfast and lunch.
Head just another block west, towards the lake, and look left. You will find the final Mural Portrait on the side of the old Ray's Seafood building (corner of North and Front streets).
Head south on Front Street, cross Battery Park and walk down Battery Street, stopping to take in the great view of the lake. At the intersection of rue Collège, Burlington Bay Market and Cafe serves coffee, snacks and delicious creams when the weather warms up!
Walk up College Street to St. Paul Street. This is where you will find the Hummingbird fresco , painted as a mosaic of geometric shapes in pinks, purples, greens and blues. It was commissioned by American flatbread and painted by Mary Lacy, who uses a bucket truck with a 32-foot boom to do her job.
Next, head to Church Street and see the You are loved mural on Cherry Street, across from Ben & Jerry's. Commissioned by the US Attorney's Office in Vermont and painted by Boston artist Alex Cook, it is part of a nationwide series of 28 murals designed to raise awareness of human trafficking. There is no shortage of snack options at Church Street Market. We like Uncommon patterns (42 Church Street) for a hot chocolate when it's cold outside and a freshly squeezed lemonade when the sun is shining.
Turn right at the top of Church Street and walk one block to North Winooski Avenue. Head north on North Winooski for three blocks, until you come to the Muhammad Ali and Akwaaba's traditional wall paintings & on the sides of Mawuhi African Market (160 avenue N. Winooski). When asked by the building's owners to paint the side of the building in Venice, California, artist Jules Muck chose Ali as his subject because he had recently passed away. Little did she know that the store owner's son, Patience Bannerman, had met Ali as a young boy on a flight from Tennessee to New York. The Akwaaba mural features an African woman in traditional dress framed by West African symbols of welcome ("Akwaaba" means "welcome" in Ghana). It was painted by members of the Burlington-based association Anthill Collective, a group of local artists based on Pine Street, who work primarily in spray paint and are affiliated with a global mural initiative called Beautify the Earth.
Continue north on North Winooski Avenue to Decatur Street. If you've saved your appetite for the end of the tour, stop by Barrio Bakery (197 N. Winooski Ave.) for a latte and muffin before walking down Decatur Street. Turn right on Avenue Intervale and you are done with your loop!
Interested in seeing more Burlington murals? Find the Google Maps tour of Anthill Collective on their work on anthillcollective.com.