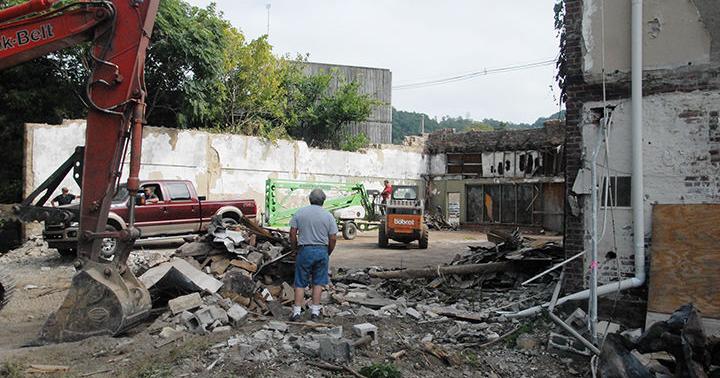 Art Station demolition finish | News
[ad_1]
The Appalachian Arts Alliance has been working for months on the demolition phase of the Art Station project and is starting the reconstruction phase.
Downtown coordinator and AAA board member Bailey Richards said organizers are happy the community can see the work being done on the project.
"There have been physical things there since probably late May or early June, but a lot has happened in the back so I had a ton of people come over and said, 'I was thinking as you guys were working on it, I thought you were moving forward, I didn't see anything, "Richards said. "Everyone noticed that wall was coming down and we were really excited for it because we knew this and the painting were going to be the big things everyone would see."
Richards said due to the age of the building, most of the work done so far has gone unnoticed by passers-by.
"This building has been empty for so long and there are a million different places where there could be like a crack in the electricity, it made more sense to empty it all completely and treat it as a new project," Richards said. She added that officials hope to start painting and pressure washing next week and focus on the reconstruction phase of the project.
"We have completed the demolition phase, so at the moment we have no walls inside, the outside is open. So now we're in the rebuilding phase, "said Richards," So the next thing we're working on is getting the drawings finalized so that we can get the plumbing plans and all of that stuff in place.
Richards also said a team will examine and remove any tiles that may contain asbestos.
"We still hope that at least part of the building will be open and ready to go by October." She added that the goal of the art station is to create space for a variety of events, classes and more.
"It's going to be a pretty flexible space that can be used for all kinds of different things, which is definitely the goal," she said. "We don't want to replicate the amphitheater, we don't want to replicate some of these other event venues, we just want to have a space that can be used in a fairly flexible way," said Richards. The different parts of the Art Station would be used to provide various opportunities.
"Where we have the kitchen, we can have pop-up restaurants and things like that," said Richards, "in the backyard we're going to have big doors in the front and back and it connects to the interior and the yard is going to be able to have a stage; It will be a moving stage that we can use for performances and things like that, it can also be used for weddings, parties, events.
Those passing through downtown Hazard will likely see the progress continue at the art station until its completion. Richards said the Appalachian Arts Alliance hopes to open at least part of the space by October.
[ad_2]