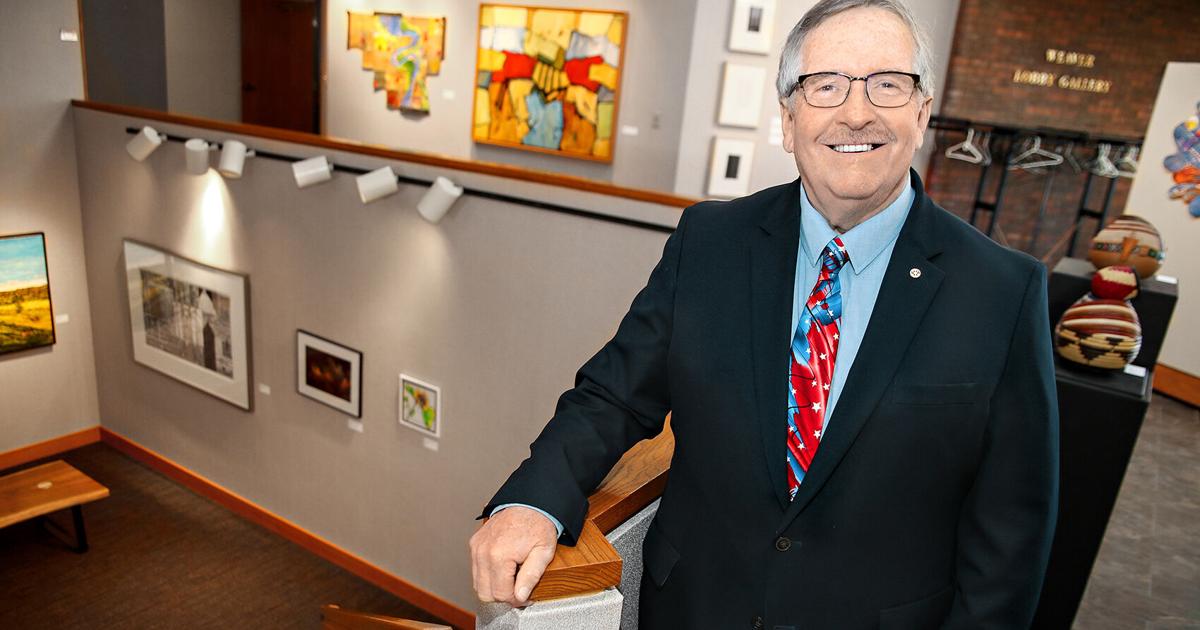 Art Appreciation | Okoboji magazine
Bob Kirschbaum has always been more athletic.
Growing up on a farm in southwestern Iowa, he dreamed of joining the professional ranks of Major League Baseball.
And although he eventually got an athletic scholarship to Morningside College in Sioux City where he became captain of the baseball team, the big league dream wasn't meant to be.
Kirschbaum would instead pursue a career in education after earning her elementary education degree followed by a master's degree in educational administration from Drake University in Des Moines.
His assignments as an administrator over the course of 32 years have taken him to districts including, but not limited to, Lawton-Bronson, Logan-Magnolia, Sheldon and Spencer.
The sport remained central as he also coached several sports like track and field, basketball and baseball in addition to his administrative duties.
It was during this time that Kirschbaum's appreciation for the arts really grew.
"You know, when I first went to Morningside, they were strong in theater and arts, but I didn't really attend those events," Kirschbaum said. "Fortunately, I'm gifted and I got married and my wife was much more balanced than me. And when I started coaching I thought I really had to support my athletes in their other events. Well, it turned out that my top athletes were also part of an orchestra, theater and swing choir, so when we started raising our family, we made sure all of our kids were okay surrounded in all kinds of activities. I really believe that the arts are so important to a community.
Kirschbaum won't be directly involved in the arts for a while yet.
After more than three decades in education, he took a position with the American Red Cross, working in Sioux City and then Dubuque for a total of nine years.
A talk at Okoboji towards the end of those years eventually led to his current position as head of the Pearson Lakes Art Center.
"I happened to be invited to speak to a Kiwanis group in Arrowwood and mentioned during the conference that I was looking to return to the area full-time," Kirschbaum said.
It turns out that a few board members were in the audience that day and approached Kirschbaum about the possibility of filling a vacancy at the facility.
A month later, he was the art center's new general manager, a position he has held for six years.
"After speaking with the board, I felt that my skills and the needs of the art center worked really well together and I was delighted to take on the position. It is truly a blessing. I I have always enjoyed working with people. During my career in education I have also been a coach and even in my role as a director I felt that I was always a coach and that the staff were my team", Kirschbaum said "It was the same with the Red Cross and coming here I felt the same kind of opportunity. I work with a staff that is simply exceptional.
He credited his upbringing for his approach to any professional position he held.
"My parents ran a small business in a small town and it was always about supporting the community and working together and that's kind of the philosophy that I brought to all the positions I've had – that it takes everyone working together," Kirschbaum mentioned. "I don't see it any differently here at Okoboji."
So far during his tenure, many changes, improvements, and renovations have taken place at the Art Center and throughout Iowa's Great Lakes.
The art center's Lauridsen Performing Arts Theater audio and video system was recently overhauled and the acoustics continue to undergo upgrades.
On the lower level, major renovations will unveil a new teaching kitchen that will allow for an exponentially greater variety of culinary arts classes and is expected to be completed by Memorial Day weekend.
"It is truly an exciting time to be part of the Pearson Lakes Art Center and it is truly a pleasure to be part of the leadership in the Lake District. I really enjoy working with all the other directors and we really try to work together for the good of the community," Kirschbaum said. "I think if someone were to fall from the sky, land here and ask if this was heaven, we would say no, it's Okoboj. It's just such a positive place.
This positivity not only comes from a fantastic staff and great community, but also from a wonderfully supportive Board of Directors and generous benefactors.
"One of our big goals to start with is to make this the most welcoming place in the community. That's why we have Kindermusik here and work with other organizations to organize events here. Once we get people in, we know they'll want to come back," Kirschbaum said. "And none of this would be possible without many generous people – our donors and supporters make this place possible."
It's a place that Kirschbaum considers the cultural center of northwest Iowa and he is committed to continuing and enhancing that legacy.
"It's uplifting and energizing to know that you're working with people who are trying to do their best for the community. We have a very supportive and fantastic board and they all want to make improvements," Kirschbaum said. "You must have a reason to get up every day and I can't think of a better place to be."
Perhaps that's why retirement isn't a question the 70-year-old has yet seriously pondered.
"Right now, I have no desire to retire," Kirschbaum said. "I love coming to work every day. I love the work and the people I work with and I'm involved with all the great entertainment, great artists and people who visit here.
This includes people from all of these school districts throughout her career path to the art center.
"Someone from Dunlap, or Sheldon, or somewhere will stop and say, Hey Mr. K! Remember me? So many positive memories and I won't get to meet these people again if I wasn't here in Okoboji," Kirschbaum said.
They are sure to return as the arts center continues to book a full range of performing arts entertainment, a diverse and comprehensive schedule of art exhibitions, a wide variety of educational opportunities for all ages, and improvements large and small throughout the property. .
Changes and upgrades to the ArtSmart Handy Room will continue to enhance this asset, while the exterior will also command attention with plans to expand the pathway network, install pollinator-friendly plants and perhaps add more sculptures.
"At the end of the day, we just want to make everything better," Kirschbaum said. "We want to help beautify the area for our visitors and local residents to enjoy 12 months a year."
He is also sure that there are many people like him who he hopes will come to see all the benefits the arts have to offer.
"There's a lot of 'Bobs' there and we have a lot of opportunities for adults and it's just a great place to bring your kids. We've got the whole school show coming up and those kids will bring their families, parents and grandparents to see their works displayed right next to world-class art and that's why I think the art center helps the community be more balanced," says Kirschbaum. "It brings more depth and breadth to the community.
He refers to his sporting roots to describe his passion and effectiveness in promoting the arts.
"People ask me how I can promote the arts with my background and I say the best managers in baseball weren't the stars of the team. They had to work hard just to be a bench player," Kirschbaum said. "Well, here my background is not in art, but nobody believes in art anymore and the importance of being a well-rounded person and community, so it's really easy for me to go out and promote."
And he does it with a strong team of family, friends, staff, donors and board members who strive to achieve the same goals.
"I have been blessed. When I was a coach I had great kids and as a manager and at the Red Cross I always worked with great people. My family has always been fantastic and supportive," Kirschbaum said. " It's the same thing here. I have just been truly blessed and greatly appreciate the opportunities here at Okoboji.