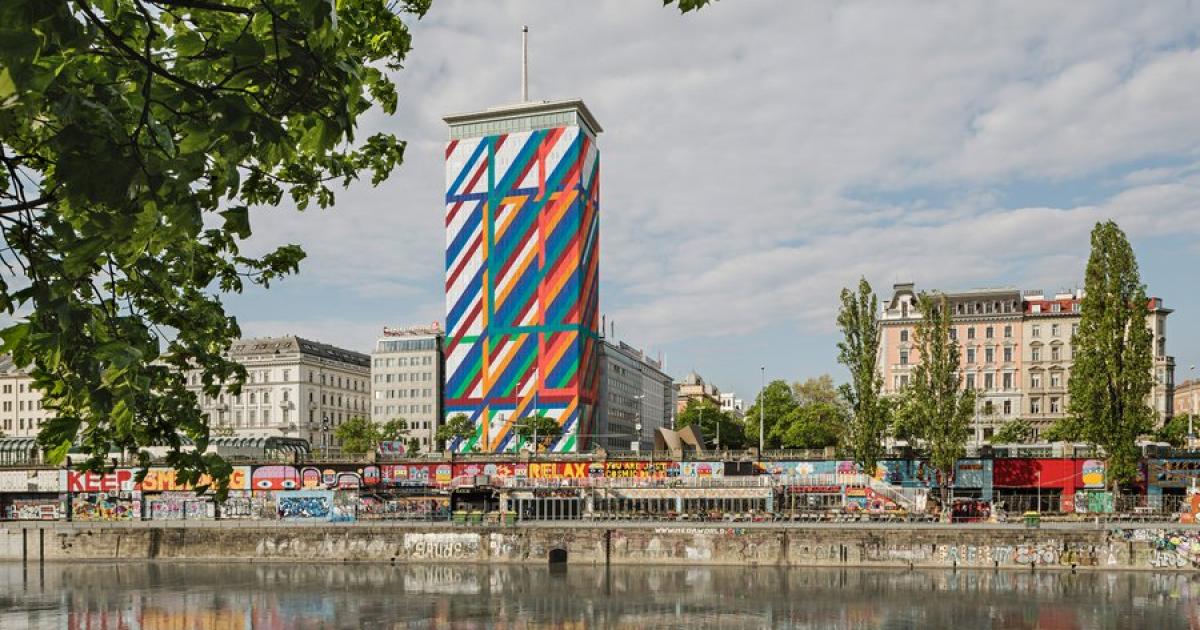 A 4,000 square meter work of art will cover one of Vienna's tallest buildings
A 4,000 square meter work of art will cover one of Vienna's tallest buildings
The Ringturm has been used as a giant canvas since 2006. After a two-year hiatus due to COVID-19, it will be wrapped in Hungarian artist Dora Maurer's artwork titled "Together".
Last week, the Ringturm (Ring Tower) in Vienna loved a new artistic layer – a 4000 square meter work of art under the title "Together". The Ringturm is Vienna's very first high-rise office building, built in the 1950s and was the city's second-tallest building at the time, only surpassed by St. Stephen's Cathedral.
In 2006 the rather dated façade of the tower was redesigned as a huge canvas and every year since then it has been covered in a new and huge work of art every year. The last time, however, the tower's gray exterior featured some color was in 2019, as the practice took a break during the pandemic.
The art tower, a symbol of hope and cohesion
The Ringturm has been the headquarters of the Wiener Städtische – Vienna Insurance Group since its conception. Its design was new by Austrian standards and was inspired by Norbert Liebermann, the company's managing director.
He emigrated to the United States during World War II and the National Socialist regime in Austria and returned with an appreciation for the usefulness of skyscrapers. The tower itself is meant to symbolize the reconstruction of Austria, after the war, as a powerful and visible example of the future.
In 2006, after half a century, the bland exterior of the tower was redesigned as a space for art. Every summer, Ringturm was wrapped with 30 printed mesh panels, covering an area of ​​4,000 square meters. The impressive list of artists includes well-established Austrian designers like Arnulf Rainer and Gottfried Helnwein, as well as foreign ones, like Serbs, Croats and Bulgarians.
This year, the artwork was created by Dora Maurer, a Hungarian visual artist who is part of the Hungarian neo-avant-garde movement. His piece "Together" is meant to represent the multifaceted and colorful nature of Central Europe, and is also a symbol of cross-border dialogue.